Fish Pulimunchi Wet Masala Paste (Stone-Ground)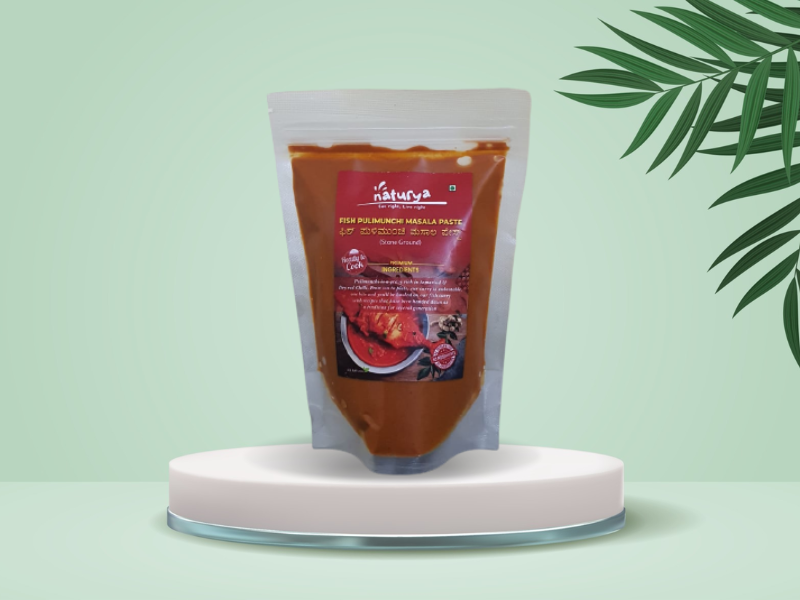 Product Details
Product Name: Fish Pulimunchi Wet Masala Paste (Stone-Ground)
Category: Ready to Cook Wet Masala
Net Weight: 250g
Product Description:

Unlock the vibrant flavors of coastal cuisine with our Fish Pulimunchi Wet Masala Paste! Inspired by the age-old recipes of the Konkan region, this tantalizing blend is a symphony of tangy, spicy, and aromatic notes that will elevate your fish dishes to a whole new level. Made from the finest handpicked spices and premium ingredients, our wet masala paste is crafted with utmost care, ensuring no compromise on taste or authenticity. With every spoonful, experience the perfect balance of tamarind, fiery red chilies, and a medley of secret spices, harmoniously coming together to create a delightful explosion of taste. Embrace the culinary heritage of the coast and effortlessly create restaurant-quality Fish Pulimunchi in the comfort of your home. Let your taste buds dance with joy as you savor the irresistible flavors that bring the essence of the Konkan to your plate. Elevate your seafood dishes and unleash the magic of Pulimunchi with our delectable wet masala paste – a true gastronomic delight for all seafood enthusiasts!